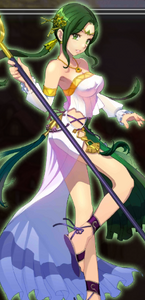 Type: Healer
Obtain Info:
Priestess Adelia can be hired through the Hero screen for 100 Star Crystals.
As a new player, you can pick Priestess Adelia as your starting Hero for free.
Description
Edit
Priestess Adelia is one of the first four Heroes you can choose to start the game as. As a healer, she serves as a very valuable leader by providing the team with sustainability via heals and buffs.
Though not much of a damage dealer, her ability to keep herself and teammates alive helps beginners to avoid LP loss.
| Level | HP | ATK POW | ATK SPD | ATK DEF | SKILL POW | SKILL SPD | SKILL DEF |
| --- | --- | --- | --- | --- | --- | --- | --- |
| 1 | 855 | 485 | 702 | 128 | 395 | 890 | 128 |
| 99 | 8131 | 2053 | 858 | 872 | 2012 | 1095 | 863 |