Duration: August 29, 5:00 PM PDT - September 1, 11:59 PM PDT
For the entire duration of the event, the following stages will give 5x gold:
On August 30 and September 1 (all day), all stages will give 1.5x gold.

This stacks with the 5x gold from Event 1, resulting in 7.5x gold from world boss stages.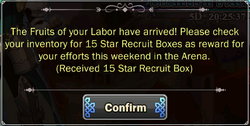 All players who compete in the Arena at least 4 times a day or 15 times in total will receive 15 Random Star Packs.

The original post said "dungeon" instead of "arena". The post has been fixed on Facebook.
Star packs will reward 1 - 10 Star Crystals when used.
Prizes were sent out on September 2.
Facebook Post
Edit
Ad blocker interference detected!
Wikia is a free-to-use site that makes money from advertising. We have a modified experience for viewers using ad blockers

Wikia is not accessible if you've made further modifications. Remove the custom ad blocker rule(s) and the page will load as expected.