Patch Notes
Edit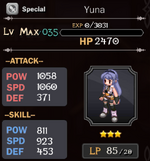 Merc Stat organization.

All stats except HP have been renamed and put into two categories (ATTACK and SKILL).

ATTACK stats deal with auto-attacks. STR has been renamed to ATK POWER. MOV has been renamed to ATK SPEED. DEF has been renamed to ATK DEF.
SKILL stats deal with skills. INT has been renamed to SKILL POWER. SP has been renamed to SKILL SPEED. RES has been renamed to SKILL DEF.

Special Burst damage reduced from 140 Skill Damage to 120.
You can now toggle AI for auto-attacks (M Auto) and skill moves (S Auto) separately.
Star Recruit notices now say Premium Recruit instead. Pirate mercenary notices now say Limited Recruit instead.
Italic text posts are unannounced changes reported by our community.
Game Version: 2.0.2
Ad blocker interference detected!
Wikia is a free-to-use site that makes money from advertising. We have a modified experience for viewers using ad blockers

Wikia is not accessible if you've made further modifications. Remove the custom ad blocker rule(s) and the page will load as expected.